Losing weight after the Holidays
Lauren

/

Dec 23rd, 2013
Vegetarian Diet
Also indexed as:Vegan Diet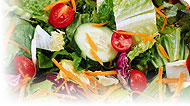 Why Do People Follow This Diet?
People choose vegetarian diets for a variety of reasons. Many choose them to improve their health or to decrease the risk of chronic diseases, such as heart disease, diabetes, or cancer. Others go vegetarian due to concerns about world hunger and the environment, because large-scale production of animal foods uses land that could otherwise be used to grow plant-based foods, and is a major cause of deforestation and soil erosion worldwide. Still others are concerned about the presence of antibiotics, hormones, pesticide residues or disease-causing agents (as with mad cow disease) that may be present in meat. Some vegetarians object to inhumane practices of modern-day animal farming, so their reasons for being vegetarian are largely ethical. Some vegetarians believe that humans are not physiologically suited to meat eating; humans have more in common with herbivorous animals than with carnivorous animals in terms of the structure and function of the digestive tract. Others follow a vegetarian diet according to their religious custom. Finally, some people choose vegetarianism in an attempt to live more simply and economically, and in closer harmony with the way most of the world's population eats.
What Do the Advocates Say?
It is well documented that vegetarians are healthier than people who eat meat. In some cases, vegans have better health than lacto-ovo vegetarians. Although many vegetarians also exercise and avoid smoking, evidence indicates that their good health is largely due to diet. One study of 30,000 people in California compared vegetarians and meat eaters who, aside from their dietary differences, had very similar lifestyles and health practices. The vegetarians were less likely to be obese, or to have high blood pressure, diabetes, rheumatoid arthritis, or colon cancer. They were also less likely to die from heart disease. In fact, the vegetarians were healthier even than people who ate meat only occasionally. Even when vegetarians were fatter than meat eaters, the vegetarians had lower cholesterol levels.
Vegetarians have lower blood pressure even when they eat the same amount of salt as meat eaters and exercise less. Researchers have known since the beginning of the 1900s that feeding meat to vegetarians causes their blood pressure to rise.
Many studies show that vegetarians have less colon cancer than meat eaters. The composition of bacterial flora in the colon differs between vegetarians and people who eat meat in ways that could possibly affect cancer risk.
Many factors in vegetarian diets contribute to the better health of vegetarians. These factors include:
Vegetarians consume two to three times as much

fiber

as do meat-eaters. This may help to reduce

cholesterol

and blood glucose levels, and protect against colon cancer.
Vegetarians consume more

antioxidants

, which are found in a wide variety of plant foods. Antioxidants protect cells from oxygen-induced damage and reduce the risk for heart disease, arthritis, cancer, and other diseases.
Vegetarians consume more phytochemicals (special compounds found in plants) than do meat eaters. Phytochemicals have a wide range of protective effects in the human body. They help to detoxify carcinogens, stimulate the immune system, regulate cell growth (which helps to fight cancer), and reduce some of the harmful effects of excessive exposure to hormones.
Vegetarians eat more isoflavones than do meat eaters. These compounds, found mostly in

soy foods

, are another type of phytochemical. Research shows that isoflavones may reduce the risk for

prostate cancer

and may improve bone health.
Vegetarians consume much less saturated fat and cholesterol than do meat eaters. This helps to explain why they have significantly lower levels of blood cholesterol. One study showed that blood cholesterol levels were 14% lower in lacto-ovo vegetarians and 35% lower in vegans compared to meat-eaters. Lower intakes of saturated fat reduce the risk for

heart disease

and possibly for

diabetes

and cancer.
Vegetarians do not consume heme

iron

, a type of iron found in meat that may increase the risk of heart disease and cancer.
Vegetarians do not eat red meat, which has been linked to increased cancer risk in many studies. Red meat consumption stimulates the production of mutation-causing compounds in the colon and is linked to increased damage to DNA.
What Do the Critics Say?
Critics of vegetarianism claim that people who choose this diet will have to "balance incomplete proteins" to synthesize complete protein in the body. Proteins that come from fruits, vegetables, legumes, and grain products are "incomplete" in the sense that they do not provide all nine essential amino acids (protein building blocks) in a single food; thus, according to critics, a vegetarian (and especially a vegan) must be careful to consume appropriate quantities of complementary proteins each day to ensure that he or she is getting enough dietary protein.
Contrary to this popular belief, inadequate protein intake is rarely a concern for vegetarians. Better understanding of protein nutrition shows that, for adults, it is not necessary to consume special combinations of foods to meet requirements for the right balance of amino acids. Many plant foods, such as grains and legumes, provide protein. Soy foods and dairy products are particularly rich in high-quality protein. Protein needs are easily met when vegetarians consume a variety of plant foods and eat enough food to meet calorie needs. In fact, most meat-eaters consume far more protein than they actually need.
Critics also point out that there is no way to get vitamin B12 via food except through animal products. Tempeh and other fermented soy products do not contain consistent enough quantities of B12 to meet the body's requirements. Vegetarians must therefore eat B12-fortified foods or take vitamin supplements on a daily basis to prevent a deficiency.
Some critics fault vegetarian, and particularly vegan, diets for not providing sufficient calcium. In truth, most people, not just vegetarians, eat less than optimal amounts of calcium. Dairy products are a good source of dietary calcium, but they are not the only source. Green leafy vegetables and tofu are also good sources, and are usually eaten in large quantities by vegetarians. Vegans—who eat no animal products—are the most likely to suffer from calcium deficiency. Many Americans—vegetarians and meat eaters alike—could benefit from taking a calcium supplement.
Vegetarians eat less iron than non-vegetarians, and the iron they eat is somewhat less absorbable. As a result, vegetarians are more likely to have reduced iron stores. However, iron deficiency is not usually caused by a lack of iron in the diet alone; an underlying cause—such as iron loss in menstrual blood—often exists. Although iron is found in a variety of different foods, its availability to the body (bioavailability) varies significantly. This is determined by whether it is found in the form of heme and non-heme iron. Heme iron is found only in meat, fish, and poultry. It is absorbed much more readily than non-heme iron found primarily in fruits, vegetables, dried beans, nuts, and grain products, such as bread and iron-fortified breakfast cereals. Including a source of vitamin C at each meal improves absorption of vegetarian-source iron.
Strict vegans may become iodine deficient if they do not consume enough iodine, readily available in iodized salt.
Very few foods are good sources of vitamin D, which is why milk is fortified with it. Vegetarians who do not consume milk should be sure to get 20 to 30 minutes of sun exposure every day since this promotes the synthesis of vitamin D in the body. People who live in cloudy, smoggy, or northern areas, and people who do not leave their residences, need foods fortified with vitamin D. These fortified foods include breakfast cereals and some brands of soy milk and rice milk. Since people with dark skin make vitamin D less efficiently, they may also need supplemental sources of vitamin D or increased sun exposure.
Copyright © 2014 Aisle7. All rights reserved. Aisle7.com
Learn more about Aisle7, the company.
Learn more about the authors of Aisle7 products.
The information presented in Aisle7 is for informational purposes only. It is based on scientific studies (human, animal, or in vitro), clinical experience, or traditional usage as cited in each article. The results reported may not necessarily occur in all individuals. Self-treatment is not recommended for life-threatening conditions that require medical treatment under a doctor's care. For many of the conditions discussed, treatment with prescription or over the counter medication is also available. Consult your doctor, practitioner, and/or pharmacist for any health problem and before using any supplements or before making any changes in prescribed medications. Information expires June 2015.